How to organize your qubes
When people first learn about Qubes OS, their initial reaction is often, "Wow, this looks really cool! But… what can I actually do with it?" It's not always obvious which qubes you should create, what you should do in each one, and whether your organizational ideas makes sense from a security or usage perspective.
Each qube is essentially a secure compartment, and you can create as many of them as you like and connect them to each other in various ways. They're sort of like Lego blocks in the sense that you can build whatever you want. But if you're not sure what to build, then this open-ended freedom can be daunting. It's a bit like staring at a blank document when you first sit down to write something. The possibilities are endless, and you may not know where to begin!
The truth is that no one else can tell you exactly how you should organize your qubes, as there is no single correct answer to that question. It depends on your needs, desires, and preferences. Every user's optimal setup will be different. However, what we can do is provide you with some illustrative examples based on questionnaires and interviews with Qubes users and developers, as well as our own personal experience and insight from using Qubes over the years. You may be able to adapt some of these examples to fit your own unique situation. More importantly, walking you through the rationale behind various decisions will teach you how to apply the same thought process to your own organizational decisions. Let's begin!
Alice, the software developer
Alice is a freelance dev who works on several projects for different clients simultaneously. The projects have varying requirements and often different build environments. She has a separate set of qubes for each project. She keeps them organized by coming up with a naming scheme, such as:
clientA-code
clientA-build
clientA-test
clientA-prod
projectB-code
projectB-build-test
projectB-prod
...

This helps her keep groups of qubes organized in a set. Some of her qubes are based on Debian templates, while others are based on Fedora templates. The reason for this is that some software packages are more readily available in one distribution as opposed to the other. Alice's setup looks like this: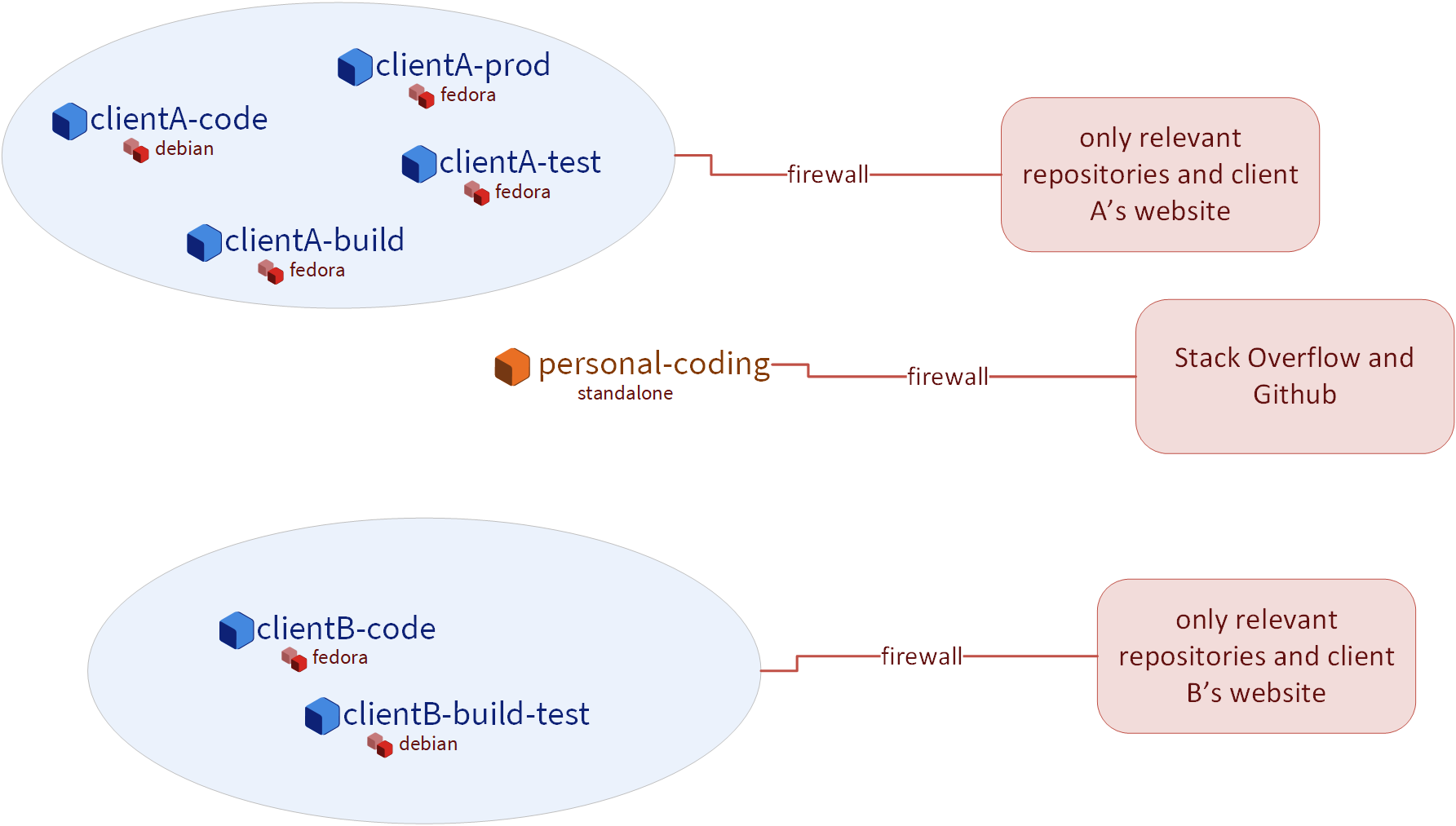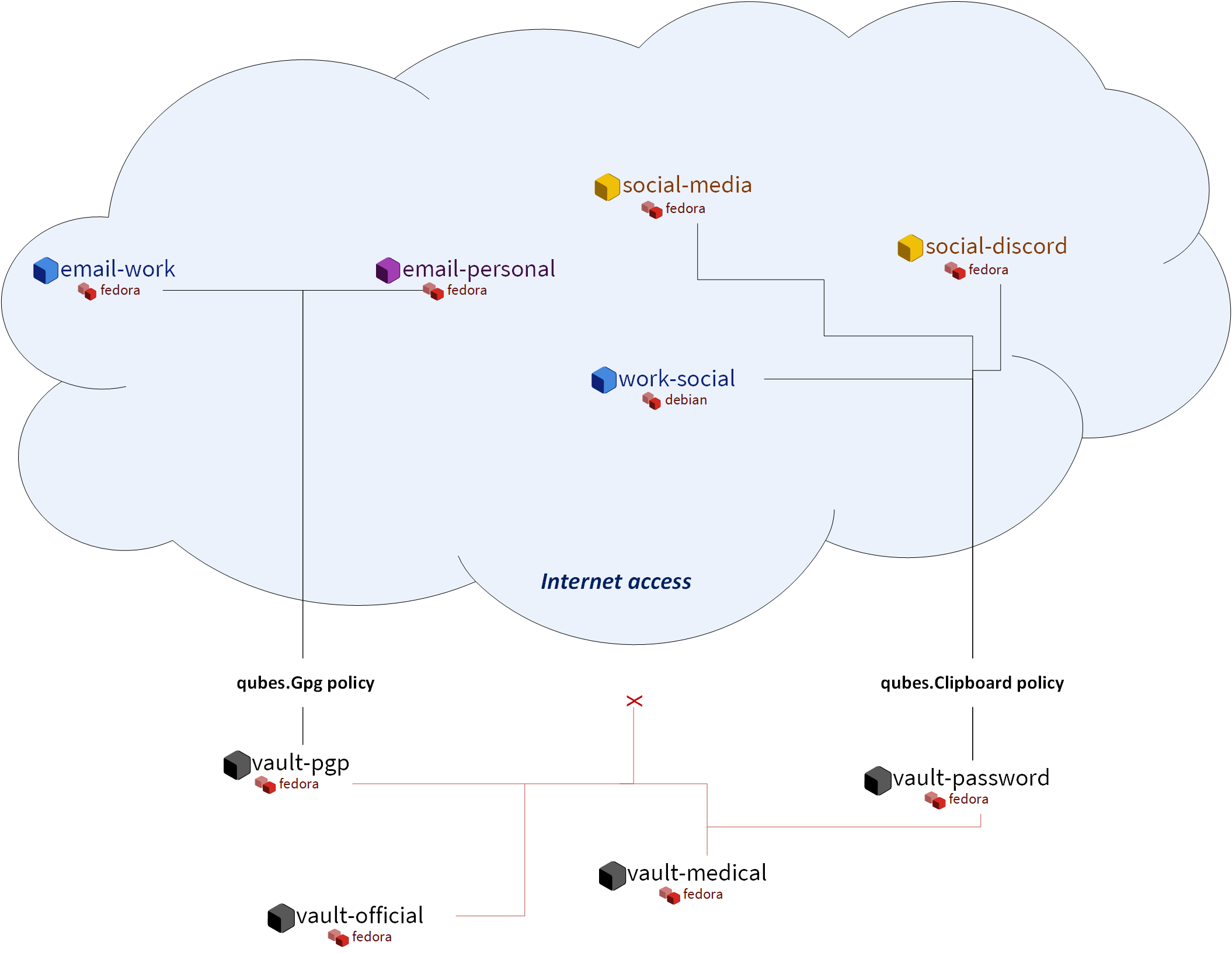 When she finishes her work for a given client, Alice sends off her deliverables, backs up the qubes containing the work for that client, and deletes them from her system. If she ever needs those qubes again or just wants to reference them, she can easily restore them from her backup, and the internal state of each one will be exactly as it was when she finished that project.
Bob, the investigative journalist
As part of his research and reporting, Bob is frequently forced to interact with suspicious files, often from anonymous sources. For example, he may receive an email with an attachment that claims to be a tip about a story he's working on. Of course, he knows that it could just as easily be malware intended to infect his computer. Qubes OS is essential for Bob, since it allows him to handle all this suspicious data securely, keeping it compartmentalized so that it doesn't risk infecting the rest of his machine.
Bob isn't a super technical guy. He prefers to keep his tools simple so he can focus on what's important to him: uncovering the truth, exposing the guilty, exonerating the innocent, and shining light on the dark corners of society. His mind doesn't naturally gravitate to the technical details of how his computer works, but he's aware that people are getting hacked all the time and that the nature of his work might make him a target. He wants to protect his sources, his colleagues, his family, and himself; and he understands that computer security is an important part of that. He has a Qubes laptop that he uses only for work, which contains: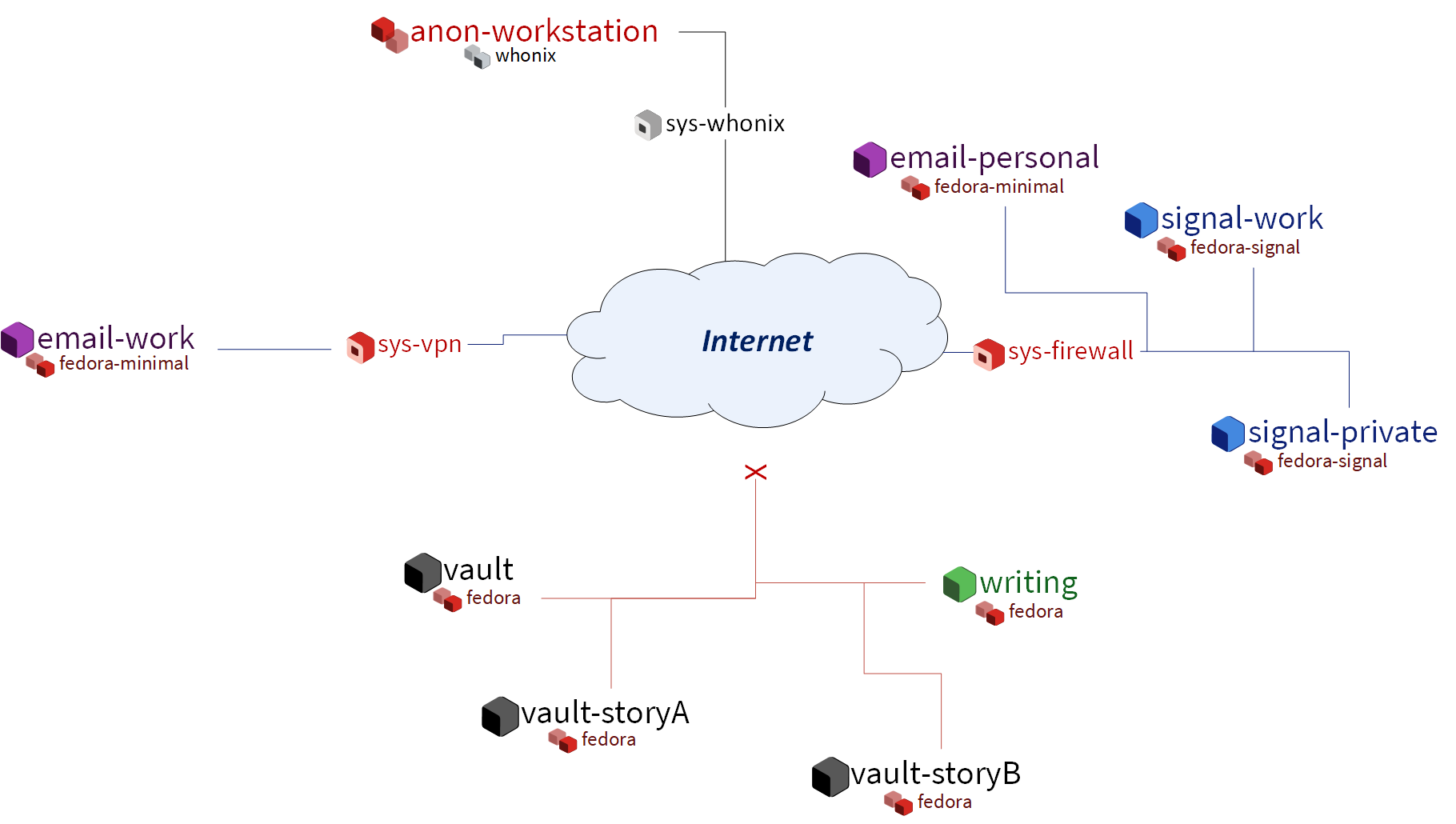 A colleague helped Bob set up his Qubes system initially and showed him how to use it. Since Bob's workflow is pretty consistent and straightforward, the way his qubes are organized doesn't change much, and this is just fine by him. His colleague told him to remember a few simple rules: Don't copy or move text or files from less trusted to more trusted qubes; update your system when prompted; and make regular backups. Bob doesn't have the need to try out new software or tweak any settings, so he can do everything he needs to do on a daily basis without having to interact with the command line.
Carol, the investor
Carol works hard and lives below her means so that she can save money and invest it for her future. She hopes to become financially independent and maybe even retire early someday, and she's decided that her best bet for achieving this is by investing for the long term and allow compounding to do its work. However, after doing some research into her country's consumer financial protection laws, she learned that there's no legal guarantee that customers will be made whole in the event of theft or fraud. The various insurance and protection organizations only guarantee recovery in the case of a financial institution failing, which is quite different from an individual customer being hacked. Moreover, even though many financial institutions have their own cybercrime policies, rarely, if ever, do they explicitly guarantee reimbursement in the event that a customer gets hacked (rather than the institution itself).
Carol looked into how thieves might actually try to steal her hard-earned wealth and was surprised to learn that they have all sorts of ploys that she had never even considered. For example, she had assumed that any theft would, at the bare minimum, have to involve transferring money out of her account. That seems like a safe assumption. But then she read about "pump and dump" attacks, where thieves buy up some penny stock, hack into innocent people's brokerage accounts, then use the victims' funds to buy that same penny stock, "pumping" up its price so that the thieves can "dump" their shares on the market, leaving the victims with worthless shares. No money is ever transferred into or out of the victims' account; it's just used to buy and sell securities. So, all the safeguards preventing new bank accounts from being added or requiring extra approval for outbound transfers do nothing to protect victims' funds in cases like these. And this is just one example! Carol realized that she couldn't assume that existing safeguards against specific, known attacks were enough. She had to think about security at a more fundamental level and design it into her digital life from the ground up.
After learning about all this, Carol decided that it was ultimately up to her to take care of her own cybersecurity. She couldn't rely on anyone else to do it for her. Sure, most people just use regular consumer tech and will probably end up fine, but, she reminded herself, most people also don't have as much to lose. It's not a risk that she was willing to take with her future, especially knowing that there's probably no government bailout waiting for her and that all the brokerage firms' vaguely reassuring marketing language about cybersecurity isn't legally binding. So, Carol started reading more about computer security and eventually stumbled upon Qubes OS after searching the web for "most secure operating system." She read about how it's designed and why. Although she didn't immediately understand all of the technical details, the fundamental principle of security-by-compartmentalization made intuitive sense to her, and the more she learned about the technical aspects, the more she realized that this is what she'd been looking for. Today, her setup looks like this:
Bonus: Carol explores new financial technology
The vast majority of Carol's assets are in broad-based, low-cost, passively-managed indexed funds. Lately, however, she's started getting interested in cryptocurrency. She's still committed to staying the course with her tried-and-true investments, and she's always been skeptical of new asset classes, especially those that don't generate cash flows or that often seem to be associated with scams or wild speculation. However, she finds the ability to self-custody a portion of her assets appealing from a long-term risk management perspective, particularly as a hedge against certain types of political risk.
Some of Carol's friends warned her that cryptocurrency is extremely volatile and that hacking and theft are common occurrences. Carol agreed and reassured them that she's educated herself about the risks and will make sure she never invests more than she can afford to lose.
Carol has added the following to her Qubes setup:
Carol makes sure to back up all of her qubes that contain important account statements, confirmations, spreadsheets, cryptocurrency wallets, and her password manager vault. If she has extra storage space, she'll also back up her templates and even her Bitcoin full node qube, but she'll skip them if she doesn't have time or space, since she knows she can always recreate them again later and download what she needs from the Internet.
Conclusion
The characters we've met today may be fictional, but they represent the needs of real users like you. You may find that your own needs overlap with more than one of them, in which case you may find it useful to model certain subsets of your overall Qubes system on different examples. You probably also noticed that there are commonalities among them. Most people need to use email, for example, so most people will need at least one email qube and a suitable template to base it on. But not everyone will need Split GPG, and not everyone will want to use the same email client. On the other hand, almost everyone will need a password manager, and it pretty much always makes sense to keep it in an offline, network-isolated vault.
As you gain experience with Qubes, you may find yourself disagreeing with some of the decisions our fictional friends made. That's okay! There are many different ways to organize a Qubes system, and the most important criterion is that it serves the needs of its owner. Since everyone's needs are different, it's perfectly normal to find yourself doing things a bit differently. Nonetheless, there are some general principles that almost all users find helpful, especially when they're first starting out.
As you're designing your own Qubes system, keep in mind some of the following lessons from our case studies: